Geometry Dash Game Online
Share Geometry Dash Game Online
Geometry Dash Game Online
Geometry Dash is a popular video game known for its engaging music and addictive gameplay. Created by the talented Robert Topala, the game promises an exciting adventure as players navigate levels filled with obstacles and hazards, all in sync with thrilling soundtracks. Since its launch, it has gained a massive fanbase, thanks to its immersive gameplay and vibrant visuals.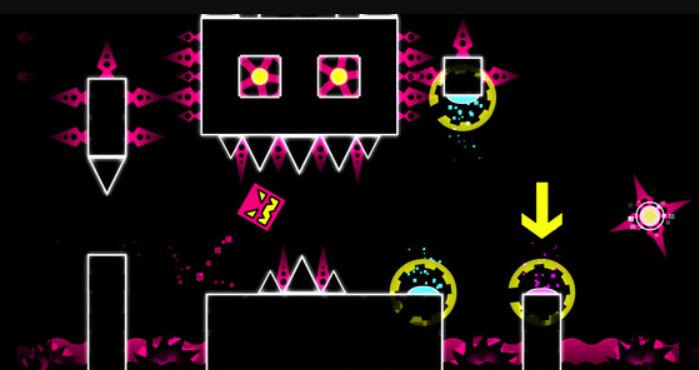 How to Play Geometry Dash?
Rules
The Basics In Geometry Dash, your goal is to guide your character through a variety of levels, maneuvering through jumps, and flights, and cleverly avoiding obstacles. Timing is key; hitting spikes or barriers means instant game over.
Controls
Controlling your character is as simple as using your keyboard keys. Stay alive as you progress through levels, unlocking unique challenges and overcoming exciting hurdles. The controls are as follows:
Jump = SPACE/UP Arrow
Multi-jump = HOLD DOWN SPACE/UP Arrow
Steer vehicle up = UP Arrow
Steer vehicle down = DOWN Arrow
Diverse Levels Geometry Dash:
The game features 21 levels, each with its design and set of challenges. Difficulty levels vary, and upon installation, you get access to 18 levels. Completing each level earns you secret coins to unlock the remaining three. Levels are categorized from Easy to Demon, offering a range of challenges.
Tips to Master Geometry Dash:
Firstly, Sync with the Music: The game's engaging gameplay is closely tied to its music. Let the beats guide your actions, enhancing your timing and performance.
Secondly, Study the Levels: Pay attention to each level's layout, obstacles, and spikes. Understanding these elements helps you plan your moves better.
Thirdly, Practice Mode: Use Geometry Dash's Practice Mode to familiarize yourself with level layouts, tackle challenging sections, and refine your movements. The checkpoints allow focused practice on specific difficult parts.
Disscuss Geometry Dash Game Online